The latest from the Clubhouse Team...


Clubhouse Corner: 1st February 2023
By Ann Bedford
The Chef team works incredibly hard to deliver a variety of meals every week and it makes a huge difference when we know numbers and allergies so please keep me updated by Thursday morning at the latest. For those that said they were staying last Saturday but decided not to, you missed a real treat, it was such a shame to see the wastage at the end of the day.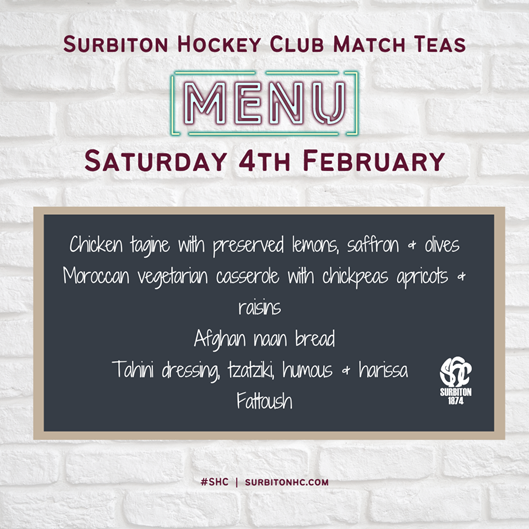 Saturday Match Teas Schedule
11.30am: L9 vs NPL
12pm: Sirens vs Berrylands
12pm: B2H
1pm: L5 vs THD
1.30pm: Mongooses vs Teddington
2.30pm: L3 vs London Wayfarers
3pm: M3 vs Old Merchants
4pm: L1
4.30pm: Magnets vs OC
5.30pm: Cobras vs M5
6pm: L6 vs Teddington
Sunday Match Teas Schedule
A reminder of the opening hours in the bar…
Monday: 5 - 10.30pm
Tuesday: 5 - 10.30pm
Wednesday: 3 - 10.30pm
Thursday: 5 - 10.30pm
Friday: 3 - 10.30pm
Saturday: 10am - 11pm
Sunday: 1 - 8pm
TEAM SOCIALS: If you are planning a get together please let me know so I can ensure we have staff for you. Please also bear in mind that there are private functions and other events filling up the calendar for the Spring so please don't assume the clubhouse will be available.
QUIZ NIGHTS: Due to other commitments there are only two quiz nights in this half of the season: this Friday 3rd February & on Friday 3rd March. It is a great fun evening and not at all competitive!?! Please arrive at 7pm so we can start on time at 7.30pm.
Teams of up to 6  |  £10pp includes fish & chips  |  £50 bar tab for winning team
ROGER'S PARKING SPACE: Apologies to Roger Hitch for his lack of reserved parking space. Roger put in a very generous bid to win the space but we have not yet sorted the signage for it. This is in hand and we look forward to unveiling the dream space shortly!
200 CLUB & FUNDRAISING: The next 200 Club draw also takes place on Saturday. Visit this page to join in time for next month's draw.
Please don't forget that we still need to raise funds to continue the development plans. If you have any ideas or would like to help with this please get in touch.
THE 6 NATIONS starts this weekend! All matches will be show in the clubhouse bar and you can find a full schedule on the next page. This weekend's matches:
Saturday
2.15pm, Wales vs Ireland
4.45pm, England vs Scotland
Sunday
3pm, Italy vs France
Thanks all for being an amazing bunch!
Cheers, Ann
clubhouse@surbitonhc.com