The latest from the Clubhouse Team...


2nd November 2022
By Ann Bedford
This Saturday's Match Teas Schedule…
11.30am: L7 vs Teddington

12.30pm: Vintage vs Bromley
1pm: M5 vs Teddington
1.30pm: L8 vs Bank of England (OL)
2pm: Sparks vs London Eds
2.30pm: Jokers vs Epsom
3.30pm: Sparticans vs Cheam
4pm: M3A vs King's & Alleyn's
5.30pm: L4 vs OCs
6pm: L1 vs Holcombe & Mizuno Guests
8.30pm: M1 vs Notts Uni
Please give Ann numbers & allergy requirements by 9am Thursday. There will also be a changing room schedule in place this Saturday.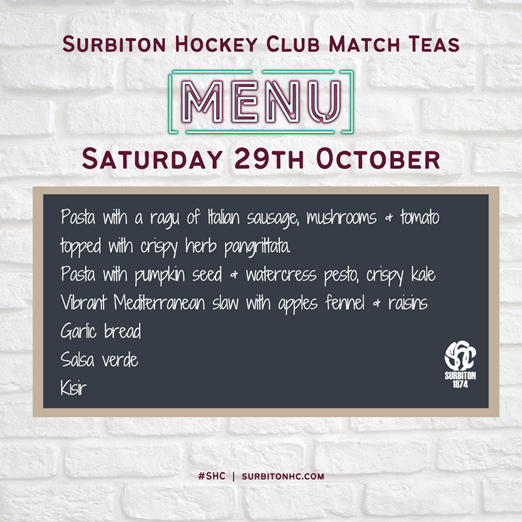 We are pleased to let you know that following a slightly longer stay than intended Suresh is now out of hospital and back home, we hope to see him at the club soon.
LAST WEEKEND: Thanks to those that embraced Spooky Saturday. For those who missed the M1 efforts, they were very impressive (although the Jamaican bobsleigh team might have been a little impractical).
THIS WEEK: Saturday sees us host Mizuno and a host of other sponsors as well as the University of Nottingham Men's Alumni group. It promises to be an epic day. Don't forget the easiest way to get tickets is to order them online before match day.
CHELSEA vs ARSENAL: We'll be showing the big Chelsea vs Arsenal Premier League game live in the clubhouse at 12pm this Sunday.
Please also note that the teas room will be in use for a private function from 6.30pm this Friday evening.
200 CLUB: The next draw for the 200 Club will also take place this Saturday. It's not too late to be included for the chance to win £100! More info on joining here
OCTOBER'S CLUBHOUSE STATS: It's that time again when I amaze you with some Clubhouse top 3s from October...
Draught in pints
Amstel: 942
San Miguel: 566
Guinness: 328
Silly Shots
Sourz: 57
Baby Guinness: 52
Jager Bomb: 49
Hot Food
Pastries: 249
Bacon Rolls: 239
Sausage Rolls: 134
Hot Drinks
PG Tea: 330
Galaxy Hot Chocolate: 240
Cappuccino: 237
Cheers, Ann