The latest from the Clubhouse Team...


24th November 2022
By Ann Bedford
This Saturday's Match Teas Schedule…
12pm: B2H
12.30pm: L3 vs Southgate
1pm: Mongooses vs Barnes
1.30pm: L6 vs Wimbledon
2pm: Sparticans vs M5
2.30pm: Sparks vs THD
3.30pm: Magnets vs Richmond
4pm: M3A vs OCs
5.30pm: L9 vs Spencer
6pm: L1 vs Birmingham Uni
8pm: M1 vs OGs
As always, please give Ann numbers & allergy requirements by 9am Thursday.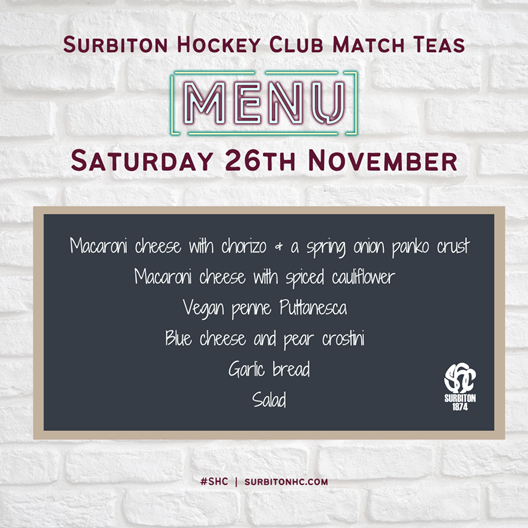 THIS WEEKEND: We are expecting a busy weekend so please help ensure everything runs on schedule by using the warm up pitch where possible.
If you are able to help on the gate it would be hugely appreciated, ensuring the gate is properly managed means we maximise this really important revenue stream.

FOOD IN THE CLUBHOUSE: A reminder that sausage rolls, scotch eggs & chilli are all available on weeknights. Pizza is also on offer on Monday & Friday evenings.
QUIZ NIGHT: The next Quiz Night (Friday 2nd December) is getting booked up! Please email if you would like to reserve a table: clubhouse@surbitonhc.com
Teams of up to 6, fish & chips supper, £50 bar tab for the winners!
COCKTAIL PARTY: Don't forget that tickets for 10th December are available via Teamo. This year's event is Great Gatsby themed and tickets include a welcome drink plus live DJ.
FUNCTION ROOM: As a reminder, we are actively seeking to make use of the function room during the week. It's suitable for lots of events and activities, from training courses to team building sessions, exercise classes to art courses and parties to wakes. Please spread the word to anyone you may know who is looking for a venue. We are looking to get the room open every evening with darts, table tennis and hopefully a pool table too.
FOOTBALL WORLD CUP: We are showing all the matches on TV in the clubhouse and no doubt some of our members will be taking a particularly close interest now the sweepstake has been drawn! Thanks to Powders & Ray for pulling the teams from the hat.
Cheers, Ann