The latest from the Clubhouse Team...


Clubhouse Corner: 29th March 2023
By Ann Bedford
Well… what a weekend we have ahead. A huge amount of work has gone into the Finals Weekend and we're looking forward to the action kicking off!
Hopefully you've all seen the various details sent out to members to help you know what to expect this weekend. Please see this week's newsletter for the Playoffs match schedule, members' information and reminders of how to buy a discounted ticket through our club shop.
All volunteers who can come down and lend a hand with some 'lifting and shifting' on Friday would be most welcome to join the effort.
For those playing, we are still doing match teas for those playing at home (albeit at 'home from home' venues in most cases!) and we will assume you will be eating an hour after your games finish to allow you time to get to the club. Please do eat together with your teams to help with our logistics. If you do have questions about clubhouse access or wristbands, please contact your captain.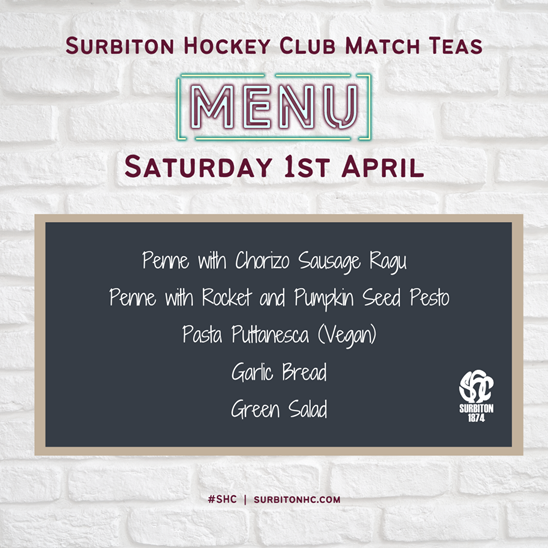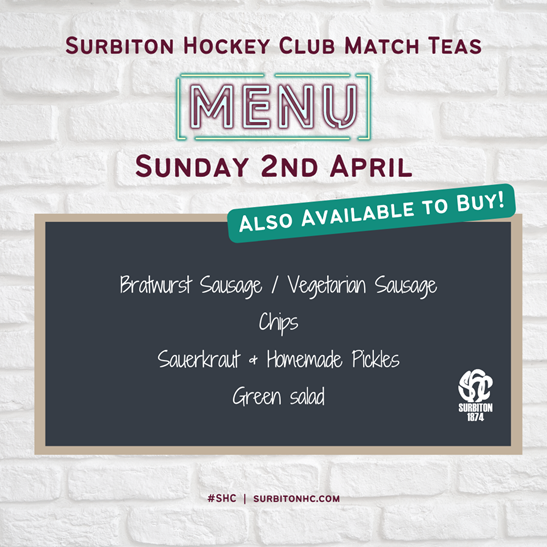 Other Food & Drink at Finals Weekend: Sunday's Match Teas Menu is also available to purchase.
The Snack Shack will be offering bacon rolls,  burgers, chips and snacks to all with a ticket to the Finals.
Meanwhile Happy Hill Kitchen (Caribbean street food) and Little Ginger (plant-based options) will be available to all to purchase.
A couple of other reminders for life beyond this weekend!
EOS: Don't forget you only have a couple of days left to get your hands on a bottle of Sourz for completing an EOS table by end of play on 31st March… 
The EOS Menu is below. If you would prefer the vegetarian option please let me know (clubhouse@surbitonhc.com) by 12th April.
Prawn Cocktail with a lemon, fennel & watercress salad
Or
Fried aubergine, date syrup slaw with feta mint chutney
Chicken with mushroom masala sauce, crushed new potatoes with brown butter vinaigrette & spring greens
Or
Spring Vegetable Risotto with new season asparagus & crispy sage
Sticky Toffee Pudding with butterscotch sauce
On Sky Sports this Week: Finally, there's a ton of sport being shown on Sky in the clubhouse this weekend including the mighty Saints in action at 2pm on Sunday!
EASTER CLOSING HOURS: Please note the club will be closed for the Easter weekend between Good Friday (7th April) & Easter Monday (10th April) inclusive.
-
Ann  |  clubhouse@surbitonhc.com