The latest from the Clubhouse Team...


Clubhouse Corner: 23rd February 2023
By Ann Bedford
Well that was quite a busy weekend considering it was half term! Thanks to all who came along last Saturday and entered into the Apres Ski spirit.
THIS WEEKEND: With a big weekend of home games (14), there are two marvellous match teas coming up on Saturday & Sunday this week...

Saturday's Match Teas Schedule
11.30am: Mongooses vs Spencer

12pm: B2H

12pm: L9 vs Wimbledon

1pm: Cobras vs Ashford

1.30pm: L5 vs EU Gamblers

2.30pm: M4 vs Teddington

3pm: Magnets vs Bromley

4pm: L3 vs Wapping

4.30pm: L6 vs Wanderers

5.30pm: M3 vs Epsom

6pm: Sirens vs Cheam

8pm: M1 vs Wimbledon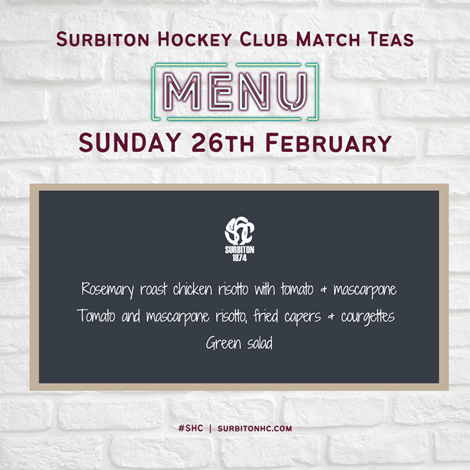 FRIENDS & FAMILY ROAST LUNCH: There are limited spaces to join the Friends & Family Roast Lunch on Sunday so please drop me an email if you would like to book a table. The chef team will be putting on a fine feast as usual!
2 courses £17.50 per head
12pm for 12.30pm
Limited Space available, please email to reserve a table of 6
The Sunday Lunch menu:
Roast topside of beef

Roast potatoes

Red wine gravy

Yorkshire pudding

Maple glazed carrots

Green beans

Portobello mushrooms sundried tomato pesto marinated courgettes, goats cheese

Bread, Butter & Baileys Pudding
Why's there no Youngs? While many of you have now embraced the Youngs Original as our usual cask ale, there was an incident at the Youngs Brewery last week which has left them unable to brew. It has meant a shortage in other products too and I'm not sure when it will be resolved but we will have an array of new ales on tap for the next few weeks.
6 Nations Returns This Weekend: It's set to be an exciting weekend of international rugby - join us in the clubhouse to watch the matches live on TV:
Italy vs Ireland, 2.15pm on Saturday
England vs Wales, 4.45pm on Saturday
France vs Scotland, 3pm on Sunday
Quiz Night: Please let me know if you would like a table for the last quiz of the season on Friday 3rd March. For those who have not been before it is a fun evening and you get fed too! Teams of up to 6, £10pp including fish & chips supper and the chance to win a £50 bar tab. Can someone end the Bright Sparks' winning streak?
Playoff Finals Weekend: Thank you to all that have offered their help for the Premier Division Play Off Finals Weekend which will take place over the 1st & 2nd April. As you can imagine there is an awful lot of work going on to make sure we deliver the event with our usual panache. A list of volunteer roles will be available in the next couple of weeks, we could not put on such events without your support so please do get involved.
Volunteers Needed: We are still looking for a volunteer to help run the Men's Over 45 Tournament on 20th & 21st May so again please do get in touch if you can offer your services.
Summer Food Menu: Alison and I are looking to introduce a Summer Menu for both evenings and weekends including a revamped pizza offering, buffalo chicken wings and a Sunday brunch. I'll keep you updated on this but akin to Alison's sausage rolls and cakes it promises to be amazing!
Ann  |  clubhouse@surbitonhc.com