The latest from the Clubhouse Team...


Clubhouse Corner: 15th February 2023
By Ann Bedford
This Saturday it's our 'Apres Ski' social!
There will be mulled wine and an abundance of ski attire on show! Please enter the spirit of the day and don your salopettes, goggles & bobble hats (actual skis may well be impractical). Will we see the M1 bobsleigh team again?!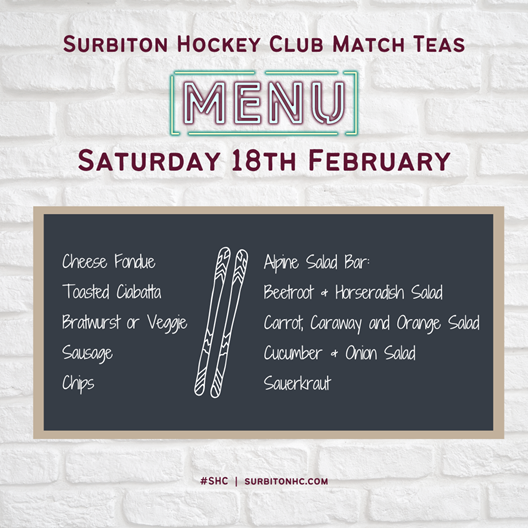 Saturday's 'Ski Teas' Schedule
1.30pm: L5 vs Sparks
1.30pm: M3 vs Teddington
2.30pm: L2 vs Wimbledon
4.30pm: U14 vs Lions
5.30pm: M2 vs Guildford
6pm: M4 vs Wimbledon 5s
7.30pm: M1 vs Holcombe
EOS CHANGE OF DATE: Due to the exciting press release that will be made this week please note that the End of Season Party date has been moved to 22nd April.
EVENT VOLUNTEERS: Just to add to the cryptic nature of this we will be looking for a band of volunteers for the weekend of 1st & 2nd April (with a slip date of 6th & 7th May). We are looking for people ready willing and able to help with a large event similar to EHCC that we held back in 2018. First and foremost will be someone to head up the volunteers (around 40 people). If this is you please drop me an email on clubhouse@surbitonhc.com
We are also still looking for a Tournament Organiser for MO45 Area Finals on the weekend of the 20th / 21st May.
VACANCIES IN BAR & CLUBHOUSE: There are also openings for Bar & Catering Staff. With lots of events and private bookings throughout the summer we need reliable and flexible people to add to the gang. Please contact me if you're interested or to find out more.
SPORT IN THE CLUBHOUSE: There's No 6 Nations action this weekend, but we will be showing the Premier League clash between Aston Villa and Arsenal art 12.30pm on Saturday.
Ann  |  clubhouse@surbitonhc.com