The Latest from the Clubhouse Team...


5th October 2022
By Ann Bedford
This Saturday's Match Teas Schedule…
11.30am: L6 vs Spencer
12.30pm: Sirens vs Indian Gymkhana
1pm: L9 vs Barnes
1.30pm: M4 vs London Wayfarers (OL)
2pm: L3 vs Wanderers
2.30pm: Vintage vs H&W
3pm: L5 vs Richmond (OL)
3.30pm: M3 vs Croydon & Old Whitgiftians
4pm: Mongooses vs OKs
5.30pm: Cobras vs OKs
6pm: L1 vs Notts Uni
8pm: M1 vs Oxted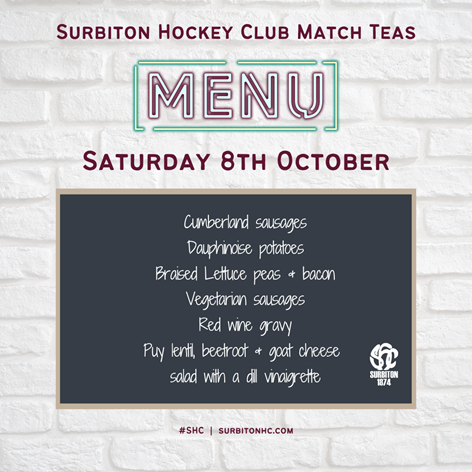 200 CLUB: It was great to see Georgie Twigg back at the club on Saturday and a big thank you for drawing the 200 Club winner from the jar of dreams. Rob Dunn received the cheque and has kindly gifted it back to the club in the form of a board square. Thank you Rob.
You can join in with the 200 Club at anytime because once your first payment is made you go into the next draw. The next draw will take place on 5th November (which is also Mizuno Day - look out for more details from next week!)
SUBS & SEASON TICKETS: A gentle reminder that subs should now have been paid, please note that Season Tickets are free to three groups of members only: full fee paying adult, Over 60 and now introduced Family Membership - all subs must be paid and up to date. Hopefully all that attended the game on Saturday found it a much easier process. With the introduction of online tickets there were much smaller queues, but please bear in mind we will continue to ask for Teamo verification that season tickets have been purchased or fees paid where applicable. If we have any invited guests please let me know in advance of match day.
I understand that everyone was able to enjoy a shower on Saturday so it looks like the plumbing works have done the trick. However, it is never all plain sailing and many of you will have noticed that you need the patience of a saint to fill a water bottle from the fountain at the moment. Rest assured this is being investigated and hopefully it will be back to full strength soon. The issue is not a result of the showers being sorted as some have suggested!
SEALS ON TOUR… ALONG THE A3: As it stands we only have one home match on 22nd October, the much anticipated Vintage vs Southgate Magnums at 11.30am. The Ladies first team also play just down the road at Wimbledon at 2pm so why not come down and support the Vintage then head over to watch the Ladies and make a day of it! We will be offering an epic full English brunch to set you on your way, let me know if you would like to book a spot - clubhouse@surbitonhc.com
QUIZ NIGHT: This Friday, 7pm for a 7.30pm start. Please let me know if you have a team (up to 6) so I can make sure there's enough fish & chip suppers (with mushy peas) to go around.
It's always a fun evening and there's a £50 bar tab to be won too!
FOOD & DRINKS: We are working on the evening bar food options and there will be amazing delights gradually introduced. If you've not had one of Alison's home-made sausage rolls yet, you are missing a real treat.
September's stats…
Pain aux Raisin are the favourite pastry – available Saturday & Sunday morning
260 Bacon rolls mean they are the firm favourite on Sunday mornings
257 Cups of PG – available all day & night
Cappuccino are the next favourite followed by the delicious Galaxy hot chocolate – available all day & night
It's a close run thing on the lagers - Amstel (754 pints) just pipped San Miguel
Jagerbombs are still the club favourite (107) but baby Guinness are creeping up
Keep the faith,
Ann