The latest from the Clubhouse Team...


30th November 2022
By Ann Bedford
This Saturday's Match Teas Schedule…
11.30am: Cobras v Teddington
11.30am: L5 vs Wanderers
11.30am: B2H
1pm: L3 vs Wapping
1pm: M4 vs Wanderers
2.30pm: M3 vs Wapping
2.30pm: Magnets vs Wimbledon
4pm: L1 vs Clifton Robinsons
4pm: L8 vs OCs
5pm: M5 vs OKs
5.30pm: L7 v Sunbury & Walton
As always, please give Ann numbers & allergy requirements by 9am Thursday.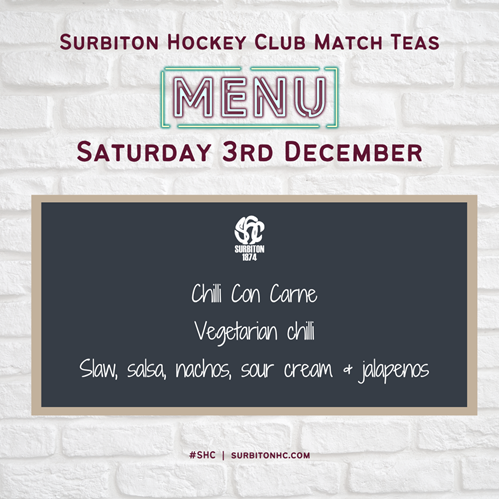 AROUND THE CLUB: Another busy weekend has flown by. The Snack Shack will be back up and running this week after a technical failure on Saturday meant everything was run from the bar - thanks to Alison and the shack team for rising to the challenge!
Ladies Day on Saturday will see guests from Russell Cooke and the club's past and present joining us for the L1 match, while on Sunday we host President's Day and welcome many of the club's VIPs and M1 parents.
All of this after the return of the SHC Quiz Night on Friday - there are plenty of people signed up but we still have a couple of tables available so please let me know if you plan to attend, it's a great fun night with the added bonus of some winnings.
NEW REUSABLE CUPS: We are really excited to announce our branded reusable cups will be delivered this week. This does mean there will be no more disposables and no glass will be allowed outside. The cups will be £1 each and added to your drink price, they are then yours to keep and reuse as often as you remember to bring them back. This step will help us reduce our waste, save smashed glasses by the pitch, help our aim of being environmentally friendly and also give you a great stocking filler option!
WORLD CUP: Don't forget all World Cup matches are being shown in the clubhouse, the sweepstake and the surprise results are making it good fun. We have seen an early exit for Glyn Jones and Abbie Strachan. Just to keep it interesting I have added a prize for the worst goal difference at the end of the tournament…
COCKTAIL PARTY: With just over 10 days to go, cocktail night hangs in the balance - please get your tickets in order to ensure we go ahead.
Cheers, Ann
clubhouse@surbitonhc.com