The Latest from the Clubhouse Team...


29th September 2022
By Ann Bedford
It was good to see league matches get underway last weekend.
A huge round of applause to Joe who is taking the reins as L2 Manager (you've got to feel for him) for being first out of the blocks on giving me tea & allergy details last week, keep it up Joe! Shame & scowls on the M3, M4 & L8 for no numbers at all last week, and thanks to the other 7 managers that gave me everything on time(ish). Please make sure we have details, even if it is late.
Please note there will be a changing room schedule in place on Saturday.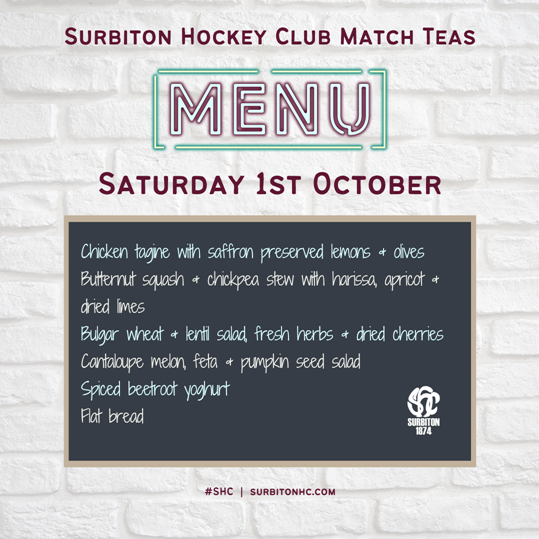 Match Teas Schedule: Saturday 24th September
11.30am: L9 vs L8
12.30pm: L4 vs London Wayfarers
1pm: M3A vs Teddington
1.30pm: L7 vs Barnes
2pm: M5 vs Ashford
2.30pm: Sparks v L5
3.30pm: Sparticans vs Cobras
4pm: Jokers vs M4
5.30pm: Vintage Internal game (TBC)
6pm: L1 vs EG
8.30pm: M1 vs EG
THIS WEEKEND: Not wishing to count one's chickens too early but I do believe the changes to the water supply meant that there were showers for all on Saturday – hoorah! This weekend will be the real test when we will have a crowd watching the Premier games along with a full day of matches. Don't forget to get your season ticket via Teamo or prebook your match day ticket online for £6 here (tickets will be £7.50 on the gate).
200 CLUB: A huge thank you to everyone that has signed up to the 200 Club, it is great to see it gathering momentum. The first draw for £100 will take place at 3.30pm this Saturday. Anyone that has made a payment in September will entered and you will receive an email from me this week with your ball number.
Visit this page on the club website for more information about the 200 Club and how to join.
THE LEGACY BOARD has also had a new lease of life since being moved into the bar. Please take a look and pick a square, remember that with a completed Gift Aid form 100% of your donation will go towards the club development project.
QUIZ NIGHT: The first quiz night of the season takes place next Friday evening (7th October). It's always an enjoyable evening so get your team of up to 6 people together for some fun quizzing and a fish & chip supper. £10 per person, email clubhouse@surbitonhc.com or turn up on the night!
CLUBHOUSE TEAM: The last of our Uni contingent have now departed and I would like to say a huge thanks and wish Rhys, Emily, Sophia, Eli, Sam & Hannah all the best whether they are off studying or travelling the world. I'm sure we'll see some of them back again soon.
This Saturday we have a lot of new faces and a couple of familiar ones on the team. Behind the bar many of you will have already met Nicola who will be working on Tuesday & Thursday evenings. Zac, who has also joined the M5s, will be picking up some shifts and Shannon who will be working on Saturdays. We also have a huge cohort of youngsters that will be in the shack making pizzas, helping with match teas and generally being superstars. We have Pippa, Cris & Jack who you will know from many previous appearances and our new folk Cleo, Phoebe, Freya & Anna.
Alison is doing an amazing job getting them all trained up and is proving to be a huge hit with her croissants, brownies, millionaire shortbread and dare I say it, epic sausage rolls which will be making an appearance once I've quality controlled a few more of them(!). We are working on an evening menu and will introduce things only when we know they are up to our supremely high standards. Any feedback is, as ever welcome... if it is negative please be sure to time your delivery very carefully!
THANK YOU CAROL! A huge part of my time at the club has been spent with our soft play area at the forefront of our daytimes. Starting with Cheeky Monkeys in 2016 and then coming over to Jumping Jelly Beans when it was taken on by the club, Carol has been the face of the soft play for over 6 years, but she has decided to move onto pastures new and we wish her all the best. On a personal note I won't miss her squirrelling our teaspoons or using the last of the coffee / washing up liquid / hand towels etc, etc but will certainly miss her cheery smile. Good luck Carol on your new adventure.
The club will be advertising for a new Jumping Jelly Beans Manager in due course.
GET WELL SOON, SURESH. Finally, we are all sending best wishes to Suresh Desai who is currently having a short stay in hospital. We look forward to seeing you back soon Suresh.
Cheers, Ann