The Latest from the Clubhouse Team...


20th September 2022
By Ann Bedford
Welcome back everyone. We have supplied match teas for the past fortnight so we are back into our stride ready for this weekend's first league fixtures. Your captains will need to let me know numbers and dietary requirements by Wednesday evening, so please make it easy for them. There are penalties for teams that do not stay for food when it has been provided so we need accurate figures please.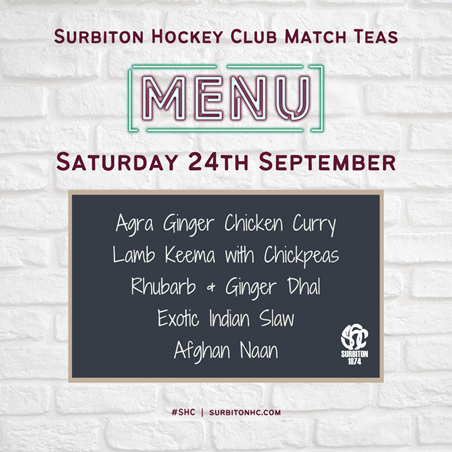 Match Teas Schedule: Saturday 24th September
11.30am: Mongooses vs NPL
11.30am: L6 vs London Wayfarers
12.45pm: L3 vs Teddington
1pm: M3 vs HWHC
2.15pm: M4 vs Epsom
2.30pm: L8 vs PHC
3pm: Cobras vs Cheam
3.45pm: L5 vs London Eds
4.30pm: L2 vs Barnes
5.15pm: Vintage vs Southgate
6.30pm: M2 vs Oxford Uni
6.45pm: Sirens vs OCs
WATERWORKS: Work is being done this week to remedy the lack of water on busy match days so we hope it will be a thing of the past!
FOOD, DRINKS & MEMBERSHIP CARDS: You will have seen the impact that Alison is having. Our food offering throughout the week and at weekends has been bolstered with the introduction of pastries and there will be more delights to come! There are a number of new staff in the Snack Shack and behind the bar so please be patient with us all while they are trained up.
We have been forced to make some price increases but they have been kept to a minimum. Remember that you collect points equivalent to 10% of your spend when you use your membership card.
Please come and ask for your card at the bar if you have not collected one yet. If you have lost yours over the summer we can issue a replacement for £5 and any points you had previously accumulated will be transferred onto the new card. All new members will be loaded onto the system in the next couple of weeks and cards can then be issued. Please bear in mind that issuing cards does take a couple of minutes and also holds the till up, so please avoid busy periods.
CLUB DEVELOPMENT: Pitch 3 is close to completion so we are looking at clever ways of utilising the outdoor space over the winter. The marquee proved its worth over Covid and while we will not be getting it back we are looking at options. The porch is also undergoing a revamp and the new trophy area is imminent - thanks to Tony Portelly with his vision and hard work with this. If you are dropping things to the club for others to collect please use the cupboards provided in the porch rather than putting them behind the bar. The Mizuno GK smocks, Impact Gumshields and last season's Juniors awards are all in the cupboards in front of you as you walk through the front doors.
SHC QUIZ NIGHT: The quiz returns on Friday 7th October so get your team together and remember there is a £50 bar tab for the winners. Teams of up to 6, £10 per person to include the traditional fish & chip supper.
Huge thanks to Dan Fox and Tony Haycroft for their continued support in setting the questions and running the evening. Please note that November's quiz will be on Thursday 3rd November as we have a private booking on Friday 4th.
200 CLUB: We are still on the hunt for Robin Hargreaves, the winner of the historic contributors' draw which took place on Adult Play Day. Any help with this ongoing investigation would be appreciated. The next draw will take place on 1st October, which is our first Premier League double header of the season and also involves a Commonwealth Games Celebration Day.
PREMIER LEAGUE GAMES: Tickets for all Premier League games are available to buy online but don't forget that a season ticket is the best way to jump the queues on match day. These are available to all members via Teamo and at £35, they give you a real saving. Non members season tickets will include social membership and will also shortly be available online at £70.
Cheers,
Ann - clubhouse@surbitonhc.com