The latest from the Clubhouse Team...


16th November 2022
By Ann Bedford
This Saturday's Match Teas Schedule…
11.30am: L5 vs Spencer
12.45pm: M4 vs Barnes
1pm: M3 vs Brom Becks
1.30pm: Vintage vs Amersham
2.15pm: L7 vs Wimbledon
2.30pm: L4 vs London Academicals
3pm: M5 vs Cheam
3.45pm: Sirens
4.30pm: L2 vs Slough
5.15pm: Cobras vs Merton tbc
6.30pm: M2 vs HWHC
As always, please give Ann numbers & allergy requirements by 9am Thursday.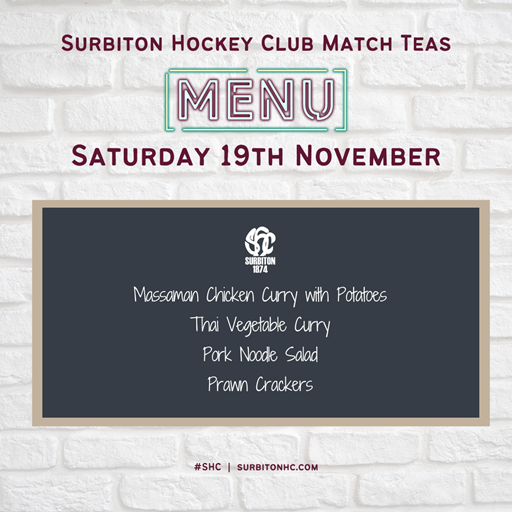 After a relatively quiet weekend, this Saturday the Cobras & L4 are getting together to put on an evening of fun, which is set to include beer pong, rugby (on TV), darts and shots. There's a few more busy weekends coming up and, as ever, any help would be appreciated. We could not have run the gate on Mizuno Day without the help of Liselle, Oliver or Dan - so thank you.
FOOD - THIS WEEK'S SPECIALS: Alison is making a massive difference to our food offering and if you have not already tried them I thoroughly recommend… everything. We are starting to work out what works best at different times and there will be pizzas on Monday and Friday evenings with chilli and sweet & savoury treats Tuesday, Wednesday & Thursday evenings and Sunday afternoon.
LOOKING AFTER YOUR CLUB:
You will notice the newly turfed area as you enter the club through the main gate. Please keep off the new grass!
There are bins on both P1 & P2 next to the dugouts, please use them rather than leaving litter around them. There is also a bin on the entrance to P3, so no excuses!
All dogs to be kept on a lead
No smoking or vaping in the clubhouse
COMING UP IN THE CLUBHOUSE
World Cup 2022: All games will be shown in the clubhouse. The sweepstake is now oversubscribed! Please make sure you pay (in cash at the bar) if you have entered to confirm your place. Ann will be in touch with those who have entered who are on the waiting list.
There is a lot of interest in the next Quiz Night on Friday 2nd December so please let Ann know if you are planning on entering a team so we can make sure there is enough fish & chips for everyone.
OTHER REMINDERS:
Please remind all opposition that we are cashless, we still get surprised visitors that suggest they have no other way of paying.
If you're bored of waiting for a space to appear in the car park on game day or training nights, don't forget you could secure exclusive use of your own space for the whole of 2023 with a winning bid in the car parking space auction!
FUNCTION ROOM: With the closure of Jumping Jelly Beans comes the opportunity to use the function room very differently and we are actively seeking more daytime functions, from training courses to team building sessions, exercise classes to art courses and parties to wakes. Please spread the word to anyone you may know who is looking for a venue. We are looking to get the room open every evening with darts, table tennis and hopefully a pool table too.
Cheers, Ann