The Latest from the Clubhouse Team...


12th October 2022
By Ann Bedford
This Saturday's Match Teas Schedule…
11.30am: Ladies 7s vs OCs
12pm: Jokers vs Wanderers
12.30pm: L8 vs Wimbledon
1pm: Sparks vs Wanderers
2.30pm: Magnets vs Reading
3pm: M3A vs Old Tonbridgians
3.30pm: L4 vs Richmond
4.30pm: L2 vs Sevenoaks
5.30pm: Sparticans vs Teddington
6.30pm: M2 vs Richmond
7pm: M5 vs Cobras
Please ensure your opposition are aware the teas will contain nuts this Saturday.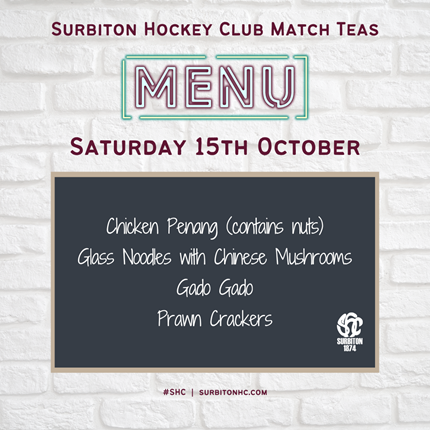 HOT CHOCOLATE: As the chilly days return don't forget that Galaxy Hot Chocolate is available from the Snack Shack from 8am on Sunday mornings and every day from the clubhouse bar.
LOST PROPERTY: The yellow lost property has been emptied and all old items got rid of.
We have a stack of Mizuno kit that has been reclaimed and placed in cupboards in the porch, any items remaining next Monday will be placed in the yellow bin which will then be disposed of monthly.
SEASON TICKETS: There has been a bit of confusion with Season Tickets. Please ensure you purchase before gameday to help things on the gate. If you are entitled to a free Season Ticket you still need to add it on Teamo but as a £0.00 option.
QUIZ NIGHT: Only a handful of teams came along so we did a 'just for fun' quiz on Friday. The winners were "Suresh's Knee Supporters". No winners bar tab this time. Thank you to those that made a donation for food & general frivolity on the night.
The next Quiz Night will be on Friday 2nd December so hopefully that gives you all enough time to get your teams together.
Cheers,
Ann